Digital Math for 1.OA.4 - Apply Properties of Operation Problems (Slides + Self-Grading Quiz)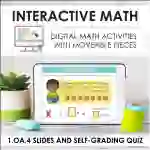 Attributes
Add To Collection
About This Product
Digital Math for 1.OA.4 - Apply Properties of Operation Problems (Slides + Self-Grading Quiz)
An all-encompassing teaching resource, designed specifically to cater to the needs of grade 1 math education. This interactive tool is suitable for classroom teachers, homeschoolers, and tutors alike.
Interactive Math Slides:
The heart of this product lies in its interactive slides that simplify complex algebraic concepts.
Each slide encourages direct engagement by allowing students to maneuver images around screens as they explore basic mathematical principles in an inviting environment.
Self-Grading Quiz :
A designated Google Forms quiz equipped with self-grading technology swiftly assesses student progress and understanding levels.
This feature not only provides essential data but also eliminates the daunting task of manual grading!
Variants:
The resource package consists versions appropriate both for
PowerPoint
and
Google Slides formats
. Allows assignment via Google Classroom.
Selective Assignment:
Choice to assign either the entire file or individual slides at any given time adapting lessons per student requirements or curriculum demands.
Packed with Elements:
Includes 20 engaging slides each filled with elements designed especially to make algebra more fun! Few use-case scenarios:
Distance learning situations,

Small group project work sessions,

- Tasks allocated at centres within conventional classroom settings. . # finally: The Digital Mathematicians Tool is a comprehensive paperless solution that makes the teaching-learning experience of Grade 1 Algebra much more engaging and meaningful.
What's Included
Included in this Resource:
Both PowerPoint and Google Slides
20 interactive student slides
A corresponding, self-grading quiz on Google Forms
This resource can be used as a distance learning assignment, in small group instruction, or as a center.
Resource Tags
digital math
interactive slides
self-grading quiz
properties of operation problems
algebra
you may also like...
Check out these other great products