Geometry: Board Game for 3rd-5th - MAC Software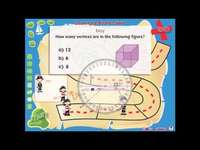 About This Product
Geometry: Board Game for 3rd-5th - Mac Software
A unique education tool, designed to provide an engaging and interactive platform where students can sharpen their geometry skills while having fun. Specifically serving learners in grades 3-5, this software game reinforces fundamental geometric concepts as framed within the Five Strands of Math.
This resource is more than just a game; it's an educational tool aligning with the Common Core State Standards and the National Council of Teachers of Mathematics (NCTM) standards, guaranteeing its quality and effectiveness. Its questions explore various aspects within geometry such as:
This approach ensures a well-rounded understanding of basic geometry principles.
The product is provided as a zip file specifically tailored for MAC operating systems—no additional downloads required—making it incredibly convenient.
Friendly Competition Promotes Learning
In this interactive environment, students learn better together by forming two teams. This friendly rivalry turns learning from mundane tasks into thrilling challenges keeping kids interested while imparting vital lessons in geometry.
Versatile Implementation Options
The software application works in various settings: whole-group activities during class time; small group sessions for more personalized attention or even home assignment—an excellent chance at self-paced learning beyond classroom walls.
In conclusion,
Geometry: Board Game for 3rd-5th - Mac Software stands out from conventional teaching tools because of its captivating way to consistently deliver high-quality educational material, whether at home or school setting making math topics engaging and easily comprehensible while simultaneously encourage kids' intrinsic motivation towards learning math topics joyfully.
What's Included
1 zip file with MAC software
Resource Tags
geometry
board game
math game
digital geometry
shapes game
you may also like...
Check out these other great products