Holidays > Summer | Grade 3, 4, 5, 6 | Games
Summertime Fun Word Search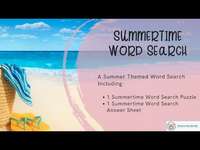 About This Product
Summer vacation is a fun and exciting time and the days leading up to it can be chaotic. Teachers need activities to help students stay engaged while still having fun. Word search puzzles can be a great way to fill some time while practicing focus, attention, executive functioning, and letter/word identification. Have a couple of students work together to make it a social activity :) This word search also makes a nice addition to a student gift at the end of the year. Add it to student work or report cards for a sweet surprise.
What's Included
Included Please Find 5 Pages:
> 1 Summertime Word Search
> 1 Summertime Word Search Answer Sheet
you may also like...
Check out these other great products