Adding and Subtracting Within 20 Worksheet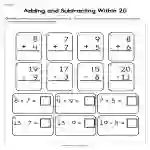 Attributes
Add To Collection
About This Product
If you want to give students extra practice with their addition and subtraction skills, I have just the resource for you.
This Adding and Subtracting Within 20 Worksheet is a great way for students to practice adding and subtracting within 20. The equations on the worksheet are designed to help students develop fluency in addition and subtraction.
What You Get:
This is a 2-page printable PDF. The first page consists of 14 problems to solve. The second page is the answer key.
How to Implement This Adding and Subtracting Within 20 Worksheet:
This activity is perfect for 1st grade math students who are reviewing addition and subtraction. This worksheet will help them practice and improve their skills. Here are a few ways you may choose to implement this Adding and Subtracting Within 20 Worksheet:
-- You can print off this worksheet as a whole class set for each student to complete. As a whole group, you may choose to guide students through some problems to begin. Modeling problems with your students will increase their confidence with independent work. From there, you can allow students to partner up and complete a few problems together. Finally, you can have students complete the last few problems independently.
-- You can print off copies of the worksheet and laminate them or place them in clear sleeves, so that students can use them over and over again with dry erase markers. This makes a great math center activity.
-- This Adding and Subtracting Within 20 Worksheet can also be used as homework or an early finisher activity.
Take A Look at My Best Sellers:
Solving Subtraction Word Problems Worksheet
Animal Beginning Digraph Sounds Worksheet
Writing with Technology Activity
You can find more resources at my storefront here: Have Fun Teaching
What's Included
A PDF with 2 printable pages
Resource Tags
Addition Worksheet
Subtraction Worksheet
Adding Problems
One Digit Numbers
Math Centers
Math Homework
Partner Work
Problem Solving
you may also like...
Check out these other great products