Language Arts > Reading | Grade 1, 2, 3, 4 | Activities
Comparing Points of View Activity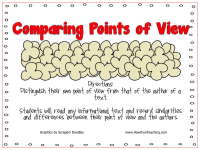 Attributes
Add To Collection
About This Product
This activity is great for helping students to distinguish their own point of view from that of the author of a text. It's a great way to get them thinking about how to analyze and interpret a text.
Resource Tags
Author's Purpose
Compare and Contrast
Independent and Guided Reading
Story Elements
you may also like...
Check out these other great products