Digital Math for 1.NBT.4 - Adding and Subtracting (Slides + Self-Grading Quiz)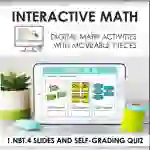 Attributes
Add To Collection
About This Product
Digital Math for 1.NBT.4 - Adding and Subtracting Package
This is an interactive resource featuring comprehensive review, practice, and enrichment exercises for Grade 1 Math students. This package leverages digital interfaces and fuses them with dynamic interactivities that render depth to the learning experience.
Unique Features
Visual representation of math concepts: Enhances understanding of abstract mathematical ideas while promoting critical thinking.
Fully Digital: Paperless teaching tool; Low-preparation resource pack.
Multipoint Compatibility: Available in both PowerPoint and Google Slides formats; Efficiently integrates with a multitude of digital platforms commonly used today.
Built-in Assessment Mechanism:A self-grading Google Forms quiz for efficient performance assessment as well as data aggregation on learner's understanding is embedded within this resource.
Educational Alignment & Scope
The content directly aligns with the 1.NBT-4 standard in the Math curriculum designed for Grade 1 students. The offering includes a total of 20 interactive slides tailored specifically to enhance consequential learning.
Versatile Utilization
this product is flexibly crafted to satellite varying instructional settings - ranging from homework assignments or small group activities up till center resources! Complete instructions are provided based on your assignment needs whether on an individual component level or the whole file at once via seamless integration with Google Classroom platform - making it suitable even under distance learning scenarios!
All-in-One Resource
The endgame is simple: Combining high-grade educational technology with traditional teaching methodologies all interfaced via an easy-to-use format leads to effective learning for primary grade pupils!
Kindly note that the product caters to multiple file types providing further flexibility depending upon your needs including but not limited to addressing attention-deficit situations (such as ADD) where tactile engagement may enhance retention.
Happy teaching!
What's Included
Included in this Resource:
Both PowerPoint and Google Slides
20 interactive student slides
A corresponding, self-grading quiz on Google Forms
This resource can be used as a distance learning assignment, in small group instruction, or as a center.
Resource Tags
interactive math
visual representation
digital learning
self-grading quiz
distance learning
you may also like...
Check out these other great products