Digital Math for 4.MD.4 - Represent and Interpret Data (Slides + Self-Grading Quiz)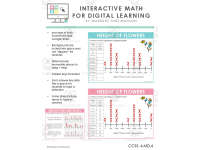 Attributes
Add To Collection
About This Product
Digital Math for 4.MD.4 - Represent and Interpret Data (Slides + Self-Grading Quiz)
A high-quality, teacher-designed educational resource created to facilitate math learning for grade four students, specifically focusing on data representation and interpretation. This product brilliantly combines graphic representations with practical tasks to spark student interest.
Applications
Aids both traditional classrooms and homeschool settings.
Promotes a sustainable teaching alternative by being primarily digital-based, eliminating paper use.
Description of Features:
Interactive Slides:
Featuring drag-and-drop images in response to various problems, facilitating 'learn by doing'. Clear instructions guide students through each task, making this an excellent tool for independent or guided study.
Self-Grading Google Forms Quiz: A vital tool that provides immediate feedback to the educator about student understanding of core concepts. Note:All these resources are also available in Google Slides format and PowerPoint versions. The package comprises:
-20 interactive slides supplemented with visual aids aligned with mathematical standards -namely 4.MD.4-
-An instruction manual embedded within the resource streamlining processes allowing either whole file assignment or selective slide distribution at one time.

Versatility of Digital Math:

Useful as a blended-learning tool capable of assigning distance education homework during remote teaching periods or unique class scenarios like small group sessions. It can be utilized as a standalone activity center within classrooms.
What's Included
Included in this Resource:
Both PowerPoint and Google Slides
20 interactive student slides
A corresponding, self-grading quiz on Google Forms
This resource can be used as a distance learning assignment, in small group instruction, or as a center.
Resource Tags
data representation
interpretation
interactive learning
digital math
self-grading quiz
you may also like...
Check out these other great products