French Vocab Review Game Mots de l'école J'ai, Qui a, Editable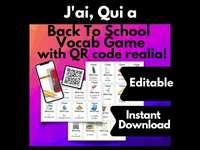 About This Product
French Vocab Review Game Mots de l'école J'ai, Qui a, Editable
Welcome to this fun way of learning and reviewing vocabulary that centers around school-related terms in French. It's designed as a low-maintenance yet highly effective educational activity suitable for students from grades 1 to 5. Nonetheless, it's versatile enough to prove instrumental for students studying French at higher grades, or even adult learners keen on enhancing their linguistic skills.
How the game works:
This game engages users in a captivating cycle of questioning and answering that not only reinforces vocabulary but also encourages fluent reading.

'J'ai Qui?' requires at least two participants. After printing and shuffling these sturdy cards (laminating or printing on durable paper is recommended), they're evenly distributed among students who then take part in an enthralling exchange of questions beginning with Qui a.... and answers commencing with J' ai.... The game concludes when we circle back to the pupil who initiated the first question.
Bonus feature: The package includes an inclusive QR code linking users directly to realistic representations of each item through Google Slides.
Numerous implementations abound; including:
Warm-up/wrap-up exercises

Augmented language learning support

Class bonding exercises

Team building activities
Besides being impactful as review activities, these card games offer valuable openings for pupils to relate otherwise obscure words with palpable objects using provided QR code representations significantly boosting retention rates.
Note: The instant download includes 11 PPTX slides and is feasible for conversion into Google Slides.
The package also allows you to tailor cards by adding preferred vocabulary and images- truly the perfect resource that evolves with individual class needs.
This teaching tool encapsulates engaging competition, fun interaction, and real-world representation, making learning memorable. No matter what your students' learning style may be, this French Vocab Review game caters for all!
Be sure to check out other "I Have, Who Has" games on: Food & Drink, School & Classroom, Numbers 1-10, Colors, and Patterns, Weather & Landforms, and more!
Resource Tags
vocabulary review
French learning
school-related terms
interactive game
reading fluency
you may also like...
Check out these other great products