French Vocab Review Game Mots du calendrier française J'ai, Qui a, Edi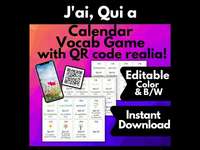 About This Product
Mots du calendrier française J'ai, Qui a, Edi: French Vocab Review Game
The French Vocab Review Game, titled Mots du calendrier française J'ai, Qui a, Edi, offers a unique and fun way to enhance vocabulary related to calendar terms in French. This exciting game is for those eager to learn or augment their linguistic prowess through an immersive experience. Catering definitely for grades 1-5 but suitable also for older children and adults.
Interactive Resource with Real-world Connections
This resource is interactive and facilitates real-world connections using images linked to specific vocabulary words via QR code realia.This combination of visual aids and phonetics serves as an efficient tool for reinforcing vocabulary retention.
Inclusive Gameplay Instructions
The game instruction included ensures seamless playing with two or more participants. It involves strategic moves of posing questions starting with 'Qui a?' (Who has?), evoking corresponding responses of 'J'ai' (I have).
An element of unpredictability is introduced as any participant can initiate the game.

The resources offer flexible slides where customized vocabulary or images can be added by the teachers.
Versatile Tool For All Teaching Environments
The 11 PPTX slides included in this download are easy convertibles into Google Slides-formatted activities. As homeschoolers also form part of our audience.An added bonus; assignments based on these cards could nurture independent learning behaviors.
Pedagogical autonomy at its best:
A lively warm-up activity before starting the day's teaching plan,

A relaxing wrap-up activity post-sessions,

An effective tool for reviewing and elucidating previously learned words.
More so, the collaborative nature of this resource encourages team bonding - building connections amongst students while they have fun tackling linguistic challenges together. The use-cases for this interactive French Vocabulary game are many – adopt it as fits best with your classroom's requirements.
Be sure to check out other "I Have, Who Has" games on: Food & Drink, School & Classroom, Weather & Landforms, Numbers 1-10, Colors & Patterns, and more!
Resource Tags
French vocabulary
Calendar terms
Interactive game
Immersive learning
Visual aids
you may also like...
Check out these other great products