ADDITION AND SUBTRACTION - Counting Caterpillar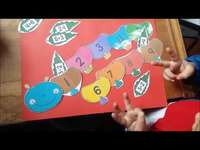 About This Product
ADDITION AND SUBTRACTION - Counting Caterpillar
Counting Caterpillar is an immersive tool designed for preschoolers, Grade 1 and Grade 2 students, that combines colors and numbers for compelling learning experiences. It's primarily geared towards developing a strong number sense through interactive play.
Concepts Covered:
Addition
Subtraction
Numerical exploration and understanding
Promotion of autonomous learning
The resource has been designed to effortlessly integrate into different teaching methods, be it independent study scenarios or supervised group activities.
Simplicity of Setup:
This game requires minimal setup: Just print out the sheets (preferably on sturdy cardstock), laminate them for durability, and they're all set to be used!
Description:
The tool incorporates visually appealing elements with numbers ranging from 0 to 10 in a vibrant caterpillar format. This design fosters focused engagement from the learners during their interaction with the various mathematical concepts on offer.
Note:
This resource proves especially potent within a math center setup when overseen by an educator during class hours.
Beyond The Classroom Benefits:
Besides classroom numeracy skills enhancement, this resource is also effective at simplifying mathematical comprehension in everyday living scenarios like calculating the number of fingers on a hand or counting apples at home.
Making Learning Fun Yet Educational
'ADDITION AND SUBTRACTION - Counting Caterpillar' balances fun with education while promoting mastery over essential arithmetic concepts primarily targeted at lower-grade primary levels. It's convenience, effectiveness, and easy-to-understand nature ensures seamless integration into any teaching strategy.
Format:
The product is downloadable and provided in PDF format.
Homeschooling or Public School?
No matter your choice of institution, ensure to include the 'ADDITION AND SUBTRACTION - Counting Caterpillar' in your math kit for an immersive and effective number sense learning experience!
Resource Tags
addition
subtraction
numbers
counting
math skills
you may also like...
Check out these other great products