Christmas Letter Identification & Sounds Intervention or Center Game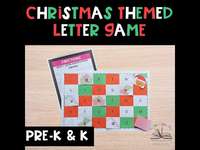 Attributes
Add To Collection
About This Product
Product Title: Christmas Letter Identification & Sounds Intervention or Center Game
Incorporate the holiday spirit into your educational instruction with ease using the Christmas Letter Identification & Sounds Intervention or Center Game. This game is designed to keep learners engaged while focusing on their letter identification skills - a balance of fun and educational value.
This product serves as an innovative reading intervention tool. It beautifully blends festive fun with targeted learning areas, ensuring no compromise on comprehensive skill practice.
Product Features:
Detailed user-friendly instructions guide teachers on two unique ways to utilize this resource.
A package includes a game board for interactive play and 26 letter cards for comprehensive Alphabet exposure.
The highlight of this game is its 10 thematic picture cards. They encourage playful interaction, as students relate phrases to Christmas!
Suitable for warm-up sessions before intervention groups start, as reading centers activity or when classroom volunteers visit - all requiring less than 5 minutes of preparation!
The included variant "Christmas Cheer" offers two different play methods explained in directions which involve categorizing by letter identification or understanding sounds those letters make – all themed around everyone's favorite festive season!
Educational Value:
Apart from being a fun classroom game, it also functions as an empathy tool. It supports learners who find traditional formats challenging by eliminating competitive elements but emphasizing correct responses.
Supports Common Core Standards: RF.K.1d, RF.K.3a, RF.K.3b
Applicable Grades:
Preschool to Kindergarten
Subjects Supported:Language Arts and Holidays (Specifically focussed on Phonics and Christmas)
Resource Type:Activity/Game
Format Provided:A PDF file for instant download - easy to print, cut out, and set up.
License Applied:© Tales from Title, guaranteeing quality!
Resource Tags
Christmas
Letter Identification
Phonics
Reading Intervention
Center Game
you may also like...
Check out these other great products