Christmas Themed Letter Identification & Sounds Intervention or Reading Center Game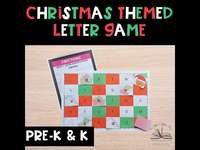 Attributes
Add To Collection
About This Product
Christmas Themed Letter Identification & Sounds Intervention - A Reading Center Game
This delightful teaching resource lets educators combine festive joy with academic development, integrating seasonal cheer into their reading and intervention groups centered on letter identification and letter sounds. Perfect for preschool or kindergarten classes, this tool encompasses holidays, language arts, and phonics.
A Two-Fold Gaming Approach to Learning
Option one: This game mode encourages students to identify lowercase letters on cards drawn and match these with their uppercase counterparts present on the game board.
Option two: This mode furthers children's development by focusing on phonetics; students draw letters from card decks, state what sound it makes before matching it on the board.
The Christmas theme allows implementation in various settings without religious constraints. Included picture cards add an adventurous twist creating exciting detours during gameplay such as building a toy at Santa's workshop. The objective isn't about winning or losing but awareness creation whereby children correctly state letter names or sounds.
Fuss-Free Classroom Resource: Just Print & Play!
Suited for busy educators seeking solutions that require minimal preparation (takes just 5 mins!), this resource is ready-to-go once print out. The package boasts of a vibrant game board assembled using two sheets of paper glued together with several exciting elements:
26 lowercase letter cards
10 themed picture cards An additional patterned background card -- prevents visual peek-throughs by playful kids!

Detailed instructions tailored as per both game options are included ensuring a delightful learning experience.

Conclusion

This tool ensures meaningful integration of fun elements while focusing on essential learning outcomes. With no winners or losers, the ultimate goal is to ensure students enjoy practicing their letter names and/or sounds, keeping learning a fun-filled experience.
What's Included
✨ What's Included: ✨
✨ 1 game board (prints on two sheets of paper and will need to be glued or taped together)
✨ 26 lowercase letter cards
✨ 10 picture cards
✨ One patterned background to print on the back of the letter and picture cards so students can't see through the paper
✨ Directions for 2 game options
✨ Information on how to assemble the game (print, cut, go!)
Resource Tags
Christmas
Letter identification
Phonics
Reading center game
Intervention
you may also like...
Check out these other great products