Language Arts > Reading | Kindergarten, Grade 1, 2 | Worksheets
Comparing Similar Texts Organizing Data Worksheet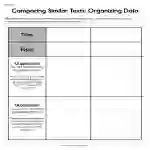 Attributes
Add To Collection
About This Product
This product is designed to help students compare the text features of two texts. The worksheet provides a framework for students to identify and record the similarities and differences between the texts. This is a valuable skill for students to have as they begin to analyze and compare texts.
Resource Tags
Compare and Contrast
Text Features
you may also like...
Check out these other great products