Data Analysis & Probability: Bar Graphs - Practice the Skill 3 - MAC Software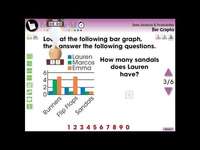 Attributes
Add To Collection
About This Product
Data Analysis & Probability: Bar Graphs - Practice the Skill 3 - MAC Software
This is a dedicated teaching aid designed to fortify student understanding of bar graphs, an integral part of data analysis and probability. This resource additionally caters to bi-lingual learning environments, containing features for both English and Spanish languages.
Rigorously crafted, it accords with the Common Core State Standards and meets STEM initiatives. It echoes standards signed by the National Council of Teachers of Mathematics (NCTM), which reinforces its applicability in varied educational settings – be it in traditional public school classrooms or modern homeschooling arrangement.
Ideal for preschoolers up through 2nd-grade students:
This all-inclusive software offers adjustable drills focused on interpreting bar graphs.
Prompts learners to respond to specific questions derived from given graphical data—an exercise that sharpens their analytical skills.
The routines are timed; promoting learning approach underpinned by speed and accuracy.
Accommodates Math tools conducive for comprehensive learning experiences.
This dynamic software comes as a convenient zip file suitable for Mac platforms. Harnessing this digital tool affords teachers limitless ways to personalize teaching methods based on distinct student capabilities—an excellent pick both for whole group instruction or small group learning sessions or even as an engaging homework assignment.
Using the Data Analysis & Probability: Bar Graphs - Practice the Skill 3 -MAC Software is not just teaching math—it's effectively preparing young minds towards becoming critical thinkers amid real-world uncertainties encountered every day.
What's Included
1 zip file with MAC software
Resource Tags
math lesson plan
data
probability
bar graphs
math skills
you may also like...
Check out these other great products