Data Analysis & Probability: Board Game - MAC Software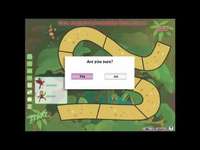 Attributes
Add To Collection
About This Product
Data Analysis & Probability: Board Game - MAC Software
This is an exemplary teaching resource that's perfect for educators keen on enhancing the mathematical skills of their learners. It targets preschoolers all the way up to grade 2 level.
Unique Features of Our Board Game Software:
Fundamentally centers on improving knowledge in data analysis and probability.
Interactive format that employs a board game with 16 multiple-choice questions for effective learning.
Promotes active participation via friendly competition between two teams using the Eliza's board game method.
The learning outcomes are designed to align with recognized educational standards. Specifically, they match up with the Five Strands of Math - meeting Common Core State Standards and NCTM guidelines.
Versatility in Implementation:
The software provides flexibility in how it's incorporated into classroom instruction, making it suitable for use during grouped activities or small study groups based on teacher preferences. It can also be set as an independent assignment or homework task allowing pupils to apply what they've learned at home.
Ease of Installation:
The software comes as a simple zip file, making installation onto MAC devices straightforward. This ensures its compatibility with modern tech-inclusive education methods used by teachers favoring MAC over other operating systems.
In conclusion, our Data Analysis & Probability: Board Game Mac Software is not only interactive but also aligns well with recognized educational standards providing a versatile and user-friendly experience for both teachers and students alike.
---
What's Included
1 zip file with MAC software
Resource Tags
digital math
data
analysis
probability
graphs
you may also like...
Check out these other great products