Data Analysis & Probability: Pictographs - Pre-Assessment & Teach the Skill - MAC Software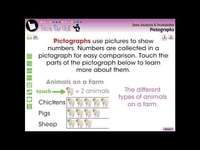 Attributes
Add To Collection
About This Product
Data Analysis & Probability: Pictographs - Pre-Assessment & Teach the Skill - MAC Software
Immersing educators and pupils alike into the dynamic world of data analysis and probability, this teaching resource is an indispensable tool for conceptualizing pictograph lessons. It caters to preschool through grade 2 levels, providing both a comprehensive pre-assessment activity and step-by-step lesson planning guidance. A fundamental mathematics toolset comes as part of the package, facilitating easy understanding of complex mathematical concepts.
The entire content aligns seamlessly with Common Core State Standards and STEM initiatives for enhanced teaching efficiency. Authored to resonate with National Council of Teachers of Mathematics (NCTM) standards, it ensures a holistic approach that prepares learners not only in local but also national context.
Installation Guide:
The application is provided as Mac software presented in a straightforward ZIP file format.
Cork-free implementation on any Apple computer.
Note: To cater multilingual classrooms or ELL students, this resource features English text with voice-over and Spanish alternative options.
Educational Methodology:
You can apply it across various learning paradigms such as whole-group instruction or small-learning group activities.
You have flexibility to modify the resource according to your educational approach best suited.

This strategy has proven effective during classroom sessions as well as homework assignments so that students can practice independently at home fostering self-reliance.
A Brief on the Content Coverage:
Graphing Concepts-

- The basic concepts involved in graphing.

Pictograph lessons and interpretation-

- Detailed understanding of creating and interpreting pictographs is incorporated.

Data Analysis & Probability-

All the intricate aspects of this topic are diligently covered in the program offering holistic coverage of mathematic subtopics related to graphing.
Every educator aiming at imparting highly efficient lessons revolving around numbers doesn't have to look further than the Pictographs Mini Chapter from TeachSimple's Data Analysis & Probability collection.
What's Included
1 zip file with MAC software
Resource Tags
pre-assessment
graph assessment
pictographs
digital math
data
you may also like...
Check out these other great products