Geometry: Composing Geometric Shapes - Practice the Skill 3 - PC Software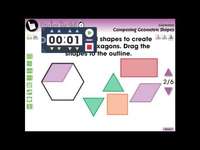 Attributes
Add To Collection
About This Product
Geometry: Composing Geometric Shapes - Practice the Skill 3 - PC Software
This software is aimed at empowering educators in teaching geometric shapes with a focus on composing hexagons. Deeply rooted in practical, hands-on learning, this curriculum-aligned software introduces timed drill activities.
Interactive Learning
Learners are tasked with the creation of hexagons using provided figures. This interactive method promotes understanding by allowing tactile interaction with the subject matter. The resource is flexible and versatile enough for whole class instruction, small group activities or individual homework assignments.
Multilingual Functionality
Equipped with default English voice-over and text but also accommodating diverse classrooms by providing Spanish language options for both voice-over and text, this feature increases accessibility across student populations while catering to different learning styles.
Network-ready: Provided as a zip file for easy installation across multiple workstations if necessary.
Educational Standards: Developed in line with Common core state standards (CCSS), STEM initiatives and NCTM standards.
Versatile Usage: Adaptable across grade levels from preschool to grade 2 proving its longitudinal continuity from foundational stages throughout early elementary years making it an excellent addition to any teacher's arsenal who oversees Math classes or conducts lessons on Geometry specifically.
In Summary...
In conclusion, "Geometry: Composing Geometric Shapes - Practice the Skill 3 - PC Software" equips teachers with interactive technology designed around promoting students' comprehensive understanding while meeting high educational standards—an engaging way of getting young learners hands-on geometry knowledge whilst developing their cognitive skills through practice drills.
What's Included
1 zip file with PC software
Resource Tags
math lesson plan
geometry lesson plan
shapes activity
shapes lesson
digital math
you may also like...
Check out these other great products