My Strengths and Weaknesses | Social Skills Activity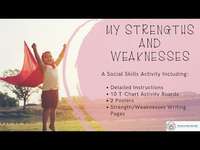 Attributes
Add To Collection
About This Product
Do you have students who struggle to understand their Strengths and Weaknesses? Some students feel they are the best at everything, while others feel they are good at nothing. Understanding one's Strengths and Weaknesses is an important part of having good self awareness and to be a good team or group member. This activity will help you teach and support your students in understanding what Strengths and Weaknesses are and what their specific Strengths and Weaknesses are, across a variety of topics. Use the posters to define and discuss Strengths and Weaknesses, then have students complete the desired T-charts to brainstorm their own Strengths and Weaknesses in the given area and finally, have students pick a Strength or a Weakness to write about.
What's Included
Included Please Find 18 Pages:
> Detailed Directions
> Poster For Strengths
> Poster For Weaknesses
> 10 T-Charts For Brainstorming across various skill areas
> Writing Pages For Strengths
> Writing Pages For Weaknesses
Resource Tags
SEL
Social Skills
Strengths and Weaknesses
Self Esteem
you may also like...
Check out these other great products