New Kid - Literature Kit Gr. 5-6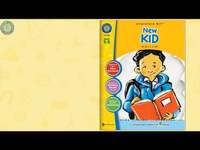 Attributes
Add To Collection
About This Product
The New Kid - Literature Kit Grades 5-6: A Comprehensive Study Guide
For teachers and homeschoolers, this comprehensive literature study guide offers the opportunity to delve into themes of discrimination, identity, and resilience. Anchored in real-world experience and the challenges of being the 'new kid,' this resource empowers critical thinking by asking students to navigate complex socio-cultural landscapes like our fearless protagonist Jordan.
Augmented with scaffolding strategies and thoughtfully aligned with state standards as well as Bloom's Taxonomy, each activity aims to develop comprehension skills. The narrative concepts are woven into tasks grounded in curriculum that facilitate application of lessons. Descriptive exercises build empathy for Jordan Banks's journey through his first day at an elite private school wrestling external stereotypes.
Interactive Lesson Plans
Prediction activities based on initial character impressions
Analyzing cause-and-effect chains from Jordan's interactions
Sequence exercises related to events during holiday breaks
(great for individual reflection or group discussions)




Enhance Analytical Capabilities & comprehension skills With Fun Comparative Games such as:

"This or That." Flexible Teaching & Learning Tools For Multiple Student Approaches:
In-class group format
In small grouped sessions
Suitable even for homework assignments
Besides that, subject-based worksheets focused on relevant chapter titles linked with real-life situations are provided which make learning fun along with crosswords & word searches.
Comprehension quizzes allow performance analysis; offering a clear understanding of students progress regarding the novel plot.
The resource comes as a single downloadable PDF file with the whopping 55 ready to print pages - designed specifically for classroom use,
Study Guide Core Focus:
For Grade 5 and Grade 6 language Arts anchored under Literature Studies. This study guide stands true to its aim: being an effective assistant for educators to conduct both literary narratives & thematic discussions concerning potent, prevalent societal issues.
The New Kid - Literature Kit Gr. 5-6 :
A splendid tool aiding educators in narrating lessons tied up with the impactful plot of the novel >
b>'New Kid'.
This kit equips students for broader understanding as they step into the resilient shoes of a 'new kid' baptized under adversity – emerging as a beacon of courage and tenacity.
What's Included
1 PDF with 55 ready to print pages
Resource Tags
literature kit
novel study guide
New Kid
comprehension quiz
vocabulary
you may also like...
Check out these other great products