Seedfolks - Literature Kit Gr. 5-6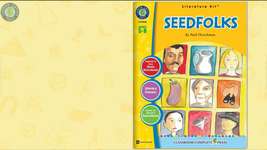 Attributes
Add To Collection
About This Product
Seedfolks - Literature Kit Gr. 5-6 is a comprehensive resource that provides educators with an effective way to incorporate the heartwarming story of Seedfolks into their literature lessons. It's thoughtfully constructed to make teaching and reinforcing key concepts straightforward and enjoyable for both teachers and students from grade 5 to grade 6.
This interactive kit encourages students amongst others things, to:
Predict character connections,
Analyze feelings towards officials via characters' comments,
Answer multiple choice questions on interpersonal relationships in the book, and
Explore themes related to character actions like Sae Young's reactions during thunderstorms.
The Seedfolks - Literature Kit Gr. 5-6 employs various activities that appeal to different types of learners, making it suitable for use in whole group instruction or small learning circles or even as homework assignments – thus ensuring maximum utilization of its contents which include:
vocabulary lists, quizzes, crosswords, word searches, etc all seamlessly tailored according to State Standards as well as Bloom's Taxonomy guidelines.
The included answer keys also make assessment convenient ensuring educators can track progress effectively while providing necessary feedback This product comes conveniently packaged in one PDF file incorporating "60 pages ready-to-print pages", eliminating any need for additional software The result is a deeply engaging holistic approach that teaches much more than mere reading comprehension but instead enlightens students on emotional cultural societal layers within stories – importantly their applicability on our daily lives It truly succeeds in combining the joy literature instruction with essential educational targets!
What's Included
1 PDF with 60 ready to print pages
Resource Tags
pre-assessment
novel study
literature
graphic organizers
writing tasks
you may also like...
Check out these other great products