The Girl Who Drank the Moon - Literature Kit Gr. 5-6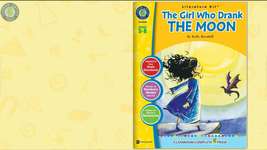 Attributes
Add To Collection
About This Product
The Girl Who Drank the Moon - Literature Kit Gr. 5-6
A comprehensive teaching resource ideally designed to capture the spirit of Kelly Barnhill's enticing novel while enhancing students' understanding and introducing them crucial middle school language arts skills.
Comprised of 60 ready-to-print PDF pages, this kit engages teachers and learners into a world full of witches, dragons, bog monsters, and enchanting girls interlaced with vital skill-building activities. It respects Bloom's Taxonomy's principles and aligns with state standards for comprehensive student engagement.
Engaging Activities:
Identifying similes and metaphors
Mappng out areas based on written descriptions
Exploring word associations through key vocabulary words
The worksheets offer beyond comprehension tick-mark sessions—they ignite imagination! Following Luna's adventure through hidden secrets, threats, allies like Xan-the-witch who raises her opens up an avenue for exploring themes like resilience in face of adversities.
An adaptive resource – Diversity in Application:
This literature toolkit adapts well across varied teaching styles making it perfect for standard classroom teachings or homeschooling modules—it splendidly serves whole class team tasks as well as detailed literary group assignments along with individual work or homework projects. Quizzes included within serve as perfect progress markers assessing strengths while strengthening weaker regions.
A holistic learning tool:
The Girl Who Drank The Moon - Literature Kit Gr. 5-6 is an extensible educational asset skilfully weaving lessons within an interesting narrative outline including crossword puzzles, word search adding a hint of entertainment making the learning procedure enjoyable.
The primary concept of this literature kit—learning language arts doesn't need to be dry textbook drilling; it can easily be as captivating & dynamic as Luna's world!
What's Included
1 PDF with 60 ready to print pages
Resource Tags
fiction story
literature
novel study
comprehension
word search
you may also like...
Check out these other great products