Algebra: Equations - Solving for a Variable - Learn the Skill - FLASH-PC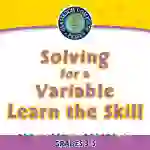 Attributes
Add To Collection
About This Product
Algebra: Equations - Solving for a Variable – Learn the Skill Flash-PC
The Algebra: Equations - Solving for a Variable – Learn the Skill Flash-PC is an instructional resource created to assist third to fifth-grade students comprehend the concept of algebraic equations and find solutions for variables.
This rich-information tool simplifies complex mathematical concepts into digestible units, giving students practical, real-world problems that gradually introduce them to algebraic equations and encourage them towards confident independent problem-solving.
Educator's ToolKit
This product provides educators with relevant mathematical tools required for effective classroom instruction.
Made with flexibility in mind, it can be used within different teaching environments; whole-group sessions where teachers aim at engaging all learners or small interactive groups guided by student leaders that encourage collective problem-solving.
This resource also serves as helpful homework material allowing each learner additional exposure beyond regular class hours to grapple these equations independently.
Tech-enabled learning
The flash-PC file type ensures access on any PC without requiring any additional software installations, breaking boundaries set by traditional classrooms. This facilitates learning anytime and anywhere.
Multilingual Resources
Inclusivity is promoted by including bilingual resources which are presented in English voice-over text as well as equivalent Spanish text catering not only too monolingual but also multi-language learners.
Dedicated adherence to Standards of Learning
Nationally aligned content:
This product strictly adheres to Common Core State Standards ensuring its content seamlessly aligns with nationally mandated education standards while supporting science and mathematics-based STEM initiatives in schools.
It follows guidelines outlined by the National Council of Teachers of Mathematics (NCTM) promising high-quality teaching resources devised by globally recommended Math educators.
The Algebra: Equations - Solving for a Variable – Learn the Skill Flash-PC product promises to equip teachers better and instill more confidence in them to guide 3rd-5th-grade students on their journey towards becoming proficient mathematicians.
you may also like...
Check out these other great products