Algebra: Equations - Solving for a Variable - Practice the Skill 3 - FLASH-MAC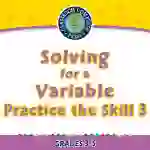 Attributes
Add To Collection
About This Product
Algebra: Equations - Solving for a Variable – Practice the Skill 3 (Flash-Mac)
Algebra can often be intimidating due to its abstract nature. This resource is designed specifically to help educators unravel the mysteries of algebra for students at Grade 3 to Grade 5. The focus is on equations and teaching students how to solve for variable 'x'.
This resource strengthens student understanding through:
Timed drill activities: These drills are both engaging and challenging, helping students master tackles equations proficiently.
Flexibility:The material can be adapted to whole group instruction, small breakout groups based on varying learning capabilities, or even as homework assignments.
Inclusive Teaching Aids & Global Accessibility
The resource includes math tools that are straightforward but instructive. Breaking language barriers with voice-over options available not just in English but also Spanish making this resource globally accessible.
National Standards Alignment & Compatibility
This teaching aid aligns seamlessly with Common Core State Standards (CCSS). It conforms with STEM initiatives and complements NCTM standards thus ensuring your lessons meet acceptable national benchmarks. The file type format is Software (Mac), guaranteeing ease-of-use from a technological standpoint. Finally yet importantly, 'Algebra: Equations - Solving for a Variable – Practice the Skill 3' can do much more than just simplifying algebraic concepts; it also leads young minds into becoming future problem-solvers!
you may also like...
Check out these other great products