Chocolate Fever - Literature Kit Gr. 3-4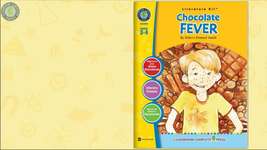 Attributes
Add To Collection
About This Product
Chocolate Fever - Literature Kit Gr. 3-4
The Chocolate Fever - Literature Kit Gr. 3-4 is an innovative teaching resource that cleverly combines literature with the promotion of healthy eating habits through the imaginative tale of a boy and his peculiar affliction. Suitable for Grade 3 and Grade 4 students, this product focuses on a unique story about Henry, a chocolate enthusiast whose overindulgence leads to an unexpected illness.
Presentation & Format:
This kit in downloadable PDF format provides educators with 60 ready-to-print worksheets, featuring activities aligned with State Standards and designed according to Blooms Taxonomy. It serves perfectly for independent reading groups, enabling interactive learning sessions where students can discuss, analyze and infer from the literary piece.
Main Activities:
Designing character charts
Connecting words from chapters to their meanings
Imagining oneself in Henry's position during his hospital visit.
A series of activities based on sequence-of-events that cultivate critical thinking skills.
Add-on Features:
Crosswords, word search puzzles etc., that makes education more engaging while enhancing comprehension skills and vocabulary knowledge. Thematic discussions surrounding healthy eating and understanding germs' spreading mechanisms before delving into relevant chapters are also included. Moreover teachers can encourage student interactions through peer interviews for comparing divergent perspectives learnt from this intriguing narrative.
The bite-sized comprehension quiz appends assistance in evaluating understanding levels post-study time while separately provided answer keys serve handy in clarifying any uncertainties encountered during individual or group discussions.
In Conclusion:
---
The Chocolate Fever - Literature Kit Gr.3-4 serves as a comprehensive guide that perfectly amalgamates language arts lessons within a literature framework conducive for small group settings or homework assignments. It showcases itself as an indispensable tool amongst available resources fostering engaging educational experiences.
What's Included
1 PDF with 60 ready to print pages
Resource Tags
literature
reading skills
comprehension
writing rubric
assessments
you may also like...
Check out these other great products