The War with Grandpa - Literature Kit Gr. 3-4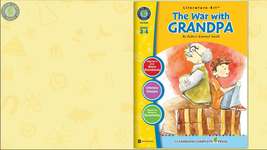 Attributes
Add To Collection
About This Product
The War with Grandpa - Literature Kit Gr. 3-4
Immerse your students in the riveting realm of intergenerational family dynamics with The War with Grandpa Literature Kit, tailor-made for 3rd and 4th graders. This all-encompassing resource is equipped with a 60-page digital PDF teeming with an array of innovative activities, comprehension assessments, and enriching vocabulary exercises.
The premise revolves around the engaging tale of Peter Stokes - a young boy who adapts to unexpected changes when his adored grandfather becomes his new roommate. The narrative provides valuable lessons about familial disagreements and how these can be resolved respectfully.
The kit offers various tasks designed to provoke meaningful discussions about character growth and motivation, like sentence completion exercises and creating their own "How Not to Start a War Handbook". This thoughtfully curated blend encourages students to grasp concepts more holistically while also stirring their innate creativity.
An arsenal of entertainment awaits in our kit — from word searches to crossword puzzles that make learning enjoyable!
Also included are carefully structured comprehension quizzes that test understanding in a fun yet challenging way.
Alongside this diverse assortment of resources is an extensive answer key that aligns perfectly with established State Standards and Bloom's Taxonomy for clear benchmark setting and progress tracking.
An unique feature:
TIMELINE GRAPHIC ORGANIZER-
Dedicated specifically for documenting Peter's "war" against his granddad. This tool solidifies pupils' understanding of cause-and-effect relationships—an essential skill in critical analysis.
. Rather than just reading through the novel, "The War With Grandpa Literature Kit" can effectively guide students while helping build important comprehension skills. This kit serves as an indispensable teaching resource — a gift that combines educational exploration with entertainment!
What's Included
1 PDF with 60 ready to print pages
Resource Tags
novel study
crossword puzzles
literature
characters
setting
you may also like...
Check out these other great products