Data Analysis & Probability - Digital Lesson Plan Gr. 6-8 | PC Software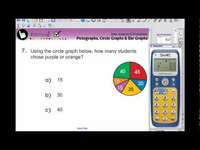 Attributes
Add To Collection
About This Product
Data Analysis & Probability Digital Lesson Plan
The Data Analysis & Probability Digital Lesson Plan software is a comprehensive teaching tool for 6th to 8th-grade mathematics, focusing on Data Analysis and Probability. Designed as per the NCTM and Core Curriculum Math Standards, this dynamic resource comprises:
Over 320 individual activities
More than 80 interactive screens
A slew of theoretical probability problems
Mean, median, mode exercises sparking deeper thought processes
Data visualization through various representations such as bar graphs and scatter plots.

This software can be utilized for individual lessons or group learning scenarios. It enriches both conceptual knowledge acquisition and procedural proficiency - creating adaptable mathematicians ready for the varied demands of higher-grade math.

User-friendly Features

The program includes features tailored for ease-of-use during teaching sessions:

An option between imperial and metric measurement tools
Dual language support in English & Spanish stoking an inclusive classroom environment where language diversity is appreciated

Making Learning Fun!

Apart from typical mathematical problems; real-world relevant word-problems totaling up to forty can be used as homework assignments or casual lateral thinking process builders outside class hours enticing curiosity about math's presence around us every day.Additionally,the PC Software incorporates three different game types:

< << li="Memory match game," "< li="The boardgame,\" \"" "<" "spinner" "game."<\/ h5="" p=""> "With effective assessment quizzes after every module, constant checksthe student's understanding levels are maintained to ensure alignment of teaching direction with students' learning patterns.

In conclusion,The Data Analysis & Probability Digital Lesson Plan software packed in one zip file transforms a routine math classroom into an immersive, interactive and detailed learning experience.

""
What's Included
1 zip file with PC software
Resource Tags
digital lesson plan
math lesson plan
data analysis activity
probability lesson
digital patterns
you may also like...
Check out these other great products