Data Analysis & Probability - Digital Lesson Plan Gr. PK-2 | MAC Software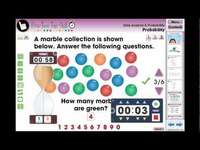 Attributes
Add To Collection
About This Product
Product Description
This product is an all-round educational resource for educators teaching data analysis and probability in grades PK-2. Containing over 150 activities across more than 80 interactive screens, it successfully combines task-based activities and drills to cater to various classroom settings.
Standards Compliance
Aligned with NCTM standards and individual State Curriculum Math Strand of Data Analysis & Probability, this software is specifically cast for math proficiency.
Main Features
An array of pre-assessment activities for bespoke learning plans.
Real-world problem solving exercises aimed at applied skill development.
Dual functionality in imperial and metric measurements - useful in diverse geographical contexts.
Bilingual text-to-speech ability (English/Spanish), supporting non-native speakers or bilingual classrooms effectively.
Aptly balanced drill problems (90+) ensuring practice on accuracy and speediness. Printables available for traditional paper tasks/tests.
Incorporated learning games like memory match game, board game & spinner game offering fun ways to learn concepts at a suitable pace.
Actionable Evaluations
The product comes fitted with assessment quizzes after each chapter acting as key knowledge-check markers providing both, the student performance feedback & teacher evaluations on their mathematical understanding level.
Loading Details:
- SKU: le-dap02m - Manufacturer: Lakeshore - Format: Downloadable Lessons / .ZIP files - Operating System Compatibility: Macos
This state-of-the-art digital lesson plan encourages curiosity while filling knowledge gaps in areas of Data Analysis & Probability for pre-kindergarten to grade 2 students, inclusive, be it at home or school settings.
What's Included
1 zip file with MAC software
Resource Tags
data
analysis
probability lesson plan
digital math
patterns lesson
you may also like...
Check out these other great products