Data Analysis & Probability: Probability - Practice the Skill 3 - MAC Software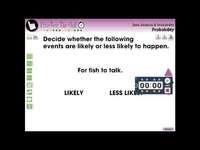 Attributes
Add To Collection
About This Product
Data Analysis & Probability: Probability - Practice the Skill 3 - MAC Software
General Description:
This dedicated teaching resource is designed to enrich educators' approach towards teaching data analysis and Probability. It is ideal for preschool, kindergarten, grade 1, and grade 2 levels with a heavy emphasis on mathematical themes like patterns.
Alignment with educational Standards:
Curriculum-aligned content in line with the Common Core State Standards and STEM initiatives.
Meticulously designed following guidelines by the National Council of Teachers of Mathematics (NCTM).
The primary feature revolves around practical drill exercises focusing on events with high or low probabilities. Such drills enhance students' analytical skills regarding probability while checking their speed and retention simultaneously
Bilingual Instructions:
Inclusionary language policy incorporates default English voice-over instructions along with Spanish text options and voice-overs.
Innovative tools integration:
This software stands out due to its integrated math tools further enriching classroom experiences beyond traditional chalk-and-board methods.
User-friendly Interface
All these educational utilities are packed into a zip file offering easy usability for any Mac user.
This resource could be adapted for whole-class discussions or small group sessions fitting individual learners' needs. This makes it an excellent addition even for independent homeschooling set-ups needing material beyond regular textbooks. Jury duty assignments can also utilize it effectively.
Note: Apply Data Analysis & Probability: Probability - Practice the Skill 3 - MAC Software, an ideal blend of interactive technology embedded within robust curricular grounding catering perfectly to modern-day instructional requirements across different teaching settings.
What's Included
1 zip file with MAC software
Resource Tags
digital math
digital lesson plan
probability
math skills
patterns
you may also like...
Check out these other great products