Data Analysis & Probability: Tally Charts - Practice the Skill 2 - PC Software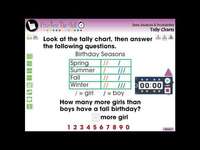 Attributes
Add To Collection
About This Product
Data Analysis & Probability: Tally Charts - Practice the Skill 2 - PC Software
Data Analysis & Probability: Tally Charts – Practice the Skill 2 is an educational computer software specifically designed for learners from preschool to second grade, with a central focus on Mathematics and Patterns. This software module effectively explains tally charts in relation to data analysis and probability.
Main Features:
Precisely designed activities for practicing skills related to data analysis.
Inclusion of math tools for interactive learning.
Bilingual support system, comprising default English language and supplementary Spanish language options.
Educational Standards:
Our content is meticulously aligned with:
Common Core State Standards (CCSS)
.
STEM initiatives
.
NCTM standards
.
Friendly Accessibility:
The software comes as a zip file allowing easy installation on any PC platform.
In conclusion, all these features harmoniously enhance students' proficiency in Data Analysis & Probability using simple yet effective methods like tally charts—while also nurturing necessary skills for tackling future mathematical challenges."
What's Included
1 zip file with PC software
Resource Tags
digital math
data
analysis
math skills
tally charts
you may also like...
Check out these other great products