Data Analysis & Probability: Tally Charts - Pre-Assessment & Teach the Skill - MAC Software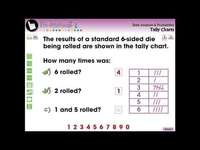 Attributes
Add To Collection
About This Product
Data Analysis & Probability: Tally Charts - Pre-Assessment & Teach the Skill - MAC Software
This curriculum-based teaching resource is designed to streamline the learning process for pre-schoolers, kindergartners and elementary school students in tally charts, a key element of data analysis and probability.
Provides a well-structured framework that assists teachers with lesson planning and effective knowledge transfer.
Incorporates pre-assessment activities to gauge students' readiness before delving into core topics.
Offers specially designed math tools that enhance hands-on learning experience, manifesting abstract ideas into practical workable formats.
Supports both English and Spanish languages. It facilitates interactive learning by overcoming language barriers across multi-lingual classrooms.
Meticulously aligns its course content with established standards such as the Common Core State Standards, NCTM guidelines, and STEM initiatives ensuring every student is provided with current educational-standard-compliant resources regardless of their learning environment.
The Data Analysis & Probability: Tally Charts - Pre-Assessment & Teach the Skill – MAC Software effectively aids educators impart fundamental concepts effectively while ensuring seamless comprehension amongst diverse group of young learners.
What's Included
1 zip file with MAC software
Resource Tags
pre-assessment
patterns
data
tally charts
digital assessment
you may also like...
Check out these other great products