Geometry: Composing Geometric Shapes - Practice the Skill 3 - MAC Software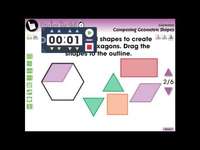 Attributes
Add To Collection
About This Product
Geometry: Composing Geometric Shapes - Practice the Skill 3 for MAC Software
The 'Geometry: Composing Geometric Shapes - Practice the Skill 3' teaching resource is designed to bolster understanding of geometric shapes. This engaging software caters to students ranging from Preschool up till Grade 2 and aligns with leading educational standards like NCTM and Common Core State Standards.
Module Highlights:
An interactive chapter mini that guides students through a timed drill exercise to compose hexagons using given shapes. This aids in improving critical thinking, creativity, and fine motor skills.
Goes beyond language barriers! The module includes voice over options in both English and Spanish along with relevant textual materials.
A downloadable ZIP file that is compatible with MAC systems ensuring easy implementation, reducing digital clutter.
About its Application:
Educators can utilize this versatile tool during whole class instruction or small group activities promoting collaborative learning principles. It could also be distributed as homework allowing leaners to enhance their understanding at their own pace.
A Unique Feature:
This resource has the capability of growing alongside your learners extending from Preschool right until Grade 2 ensuring continuity of learning without sacrificing any key geometry fundamentals along the way!
In closing,
If you're an educator who believes in securing solid Geometry foundations while making Math a stimulating yet challenging subject for your pupils – then give 'Geometry: Composing Geometric Shapes - Practice the Skill 3' a try!
What's Included
1 zip file with MAC software
Resource Tags
geometry lesson
shapes lesson
shapes activity
digital shapes
math skills
you may also like...
Check out these other great products