Math > Place Value | Grade 3, 4, 5 | Lesson Plans
Number & Operations: Base-Ten & Place Value for 3rd-5th - Practice the Skill 3 - PC Software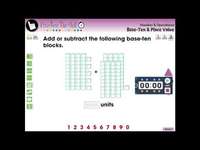 Attributes
Add To Collection
About This Product
For understanding Base-Ten and Place Value of Number and Operations, this chapter mini provides curriculum-based content in the form of practice the skill timed drill activities. This activity asks the student to add or subtract the provided base-ten blocks. Also included are math tools. With default English voice over and text, we also include a Spanish voice over and text option. Our content meets the Common Core State Standards, STEM initiatives, and are written to NCTM.
What's Included
1 zip file with PC software
Resource Tags
math skills
digital math
place value printable
base-ten blocks
operations
you may also like...
Check out these other great products