Number & Operations: Decimals - Addition & Subtraction - MAC Software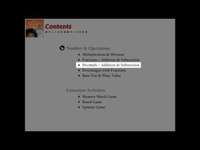 Attributes
Add To Collection
About This Product
MAC Software: A Comprehensive Math Resource for Addition & Subtraction Decimals
MAC Software is an extensive educational resource designed exclusively for educators. The focus of this software is teaching students about the addition and subtraction of decimals in math. This teaching tool is particularly useful for third, fourth, and fifth-grade teachers seeking to diversify their delivery strategies.
This singular package comes as a MAC software download encapsulated in 1 zip file. The offerings included are listed below:
A range of versatile teaching tools.
Covers curriculum-based content relating to decimal operations.
Incorporates real-world word problems fostering problem-solving skills.
Included pre-assessment feature and timed drill activities supplementing post-lesson assessments thereby giving an insightful view into the student's progress chart.
Digital Interactive Components & Extra Support Material
Beyond the conventional classroom setting, this software encourages learning by providing interactive games like memory match game, board game, and spinner game. This helps extend learning beyond direct instruction setups hence justifying its value also as a homework assignment tool or even stimulating collaborative small-group learnings.
For effective integration of technology into education, SMART Response assessment integration has been prioritized.
To support language diversity in classrooms today, English voice-over text also includes Spanish voice over options increasing its use across multilingual environments.
Moreover traditional print elements which can be utilized within offline instruction settings are provided which further enhances its adaptability. A special guide crafted by experts specifically aimed at educators provides valuable tips on using these resources optimally nudges your teaching strategy towards success.
Fitting into Every Grade 3 to Grade 5 Math Curriculum!
Addition and subtraction operations on decimals play a critical part in foundational math education. MAC Software aims to uplift this foundation by providing assorted pedagogical strategies through their downloadable platform making it a must-have inclusion into every Grade 3 to Grade 5 math curriculum.
What's Included
1 zip file with MAC software
Resource Tags
decimals lesson
decimals printable
digital math
digital decimals
operations
you may also like...
Check out these other great products