Ramona Quimby, Age 8 - Literature Kit Gr. 3-4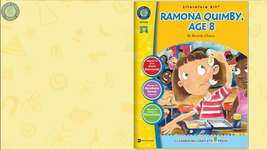 Attributes
Add To Collection
About This Product
Ramona Quimby, Age 8 - Literature Kit Gr. 3-4
The Ramona Quimby, Age 8 - Literature Kit is an educational tool specifically designed for third and fourth graders. This resource assists teachers in planning interesting lessons around the novel, focusing on language arts and literature studies.
Tutoring kit components:
A range of ready-to-use questions and writing tasks inspired by the coming-of-age story.
Vocabulary development exercises such as utilizing synonyms.
Activities that encourage understanding characters better by matching them with their traits in the book.
Critical thinking activities like brainstorming consequences for Ramona's actions or discussing uncomfortable conversations needed for resolution.
Fusing science into language arts through activities like recording stages of a favorite science experiment, thereby portraying science not just as methodical but also a part of story development with logical sequences.
All these are designed according to State Standards requirements signifying closely knit learning goals determined by education professionals over this 60-page PDF whether it serves whole classrooms or breakaways into smaller advanced study groups or even supplementary homework assignments.
A bonus section contains fun elements like:
Crossword puzzle - Word searches hidden within – all themed around "Ramona Quimby, Age 8"
Bloom's Taxonomy principles direct educated progress towards comprehensive knowledge uptake-- making learning more interactive and balanced between fun and importance.
Note: Comprehension quizzes at the end of each chapter aid in assessing the student's understanding along with answer keys provided to assist teachers during grading.
This Literature Kit supports educators by transforming reading Ramona Quimby, Age 8 into an interactive learning experience that strengthens crucial literacy skills and connects concepts to real-world scenarios – keeping curriculum preparation time minimal while focusing fully on the students.
What's Included
1 PDF with 60 ready to print pages
Resource Tags
novel study
Ramona Quimby
science experiment
reading comprehension
word search
you may also like...
Check out these other great products