The Trumpet of the Swan - Literature Kit Gr. 3-4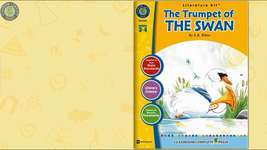 Attributes
Add To Collection
About This Product
The Trumpet of the Swan - Literature Kit Gr. 3-4
An educational resource sure to enrich the classroom experience for both educators and their pupils. This comprehensive novel study contains activities aligned to state standards, catered specifically towards grade 3 and grade 4 students. Customized learning materials based on the novel 'The Trumpet of The Swan', are designed not only to delve into plot specifics but also enhance general Language Arts proficiency.
With a focus on critical thinking, this kit encourages higher-level questioning during discussions, making it perfect not just for in-classroom group work but also beneficial when implemented in smaller study circles or even as homework assignments.
Using relatable content from a popular novel, students are motivated to envision their own futures while exploring important life lessons about perseverance and hard-work seen in the storyline through structured activities within this literature kit.
Sequencing tasks provide opportunities for understanding chronological order by organizing Sam's first encounter with swans.
Creative writing exercises push students toward self-expression – composing poems just like Sam did!
This kit builds knowledge about biology too - with interactive elements encouraging learners to delve into trumpeter swan anatomy. The teaching resource makes preparation less stressful and time-consuming since it includes more than just a lesson plan – within the digital PDF file are 60 pages prepped and ready-to-go including crosswords and comprehension quizzes related to 'The Trumpet of The Swan' theme. Beyond simply being valuable academically, this literature kit significantly helps develop ethical sensibilities among learners through Louis' story - his struggles fostering empathy among children while they introspectively draw parallels in their individual lives.
A free answer key is part of your purchase creating convenience for teachers during grading or assisting children require aid during problem-solving practice sessions at home or school.
Summary
With the Trumpet of the Swan - Literature Kit Gr. 3-4, educators have an impactful and resourceful assistant to facilitate inspired immersive learning.
What's Included
1 PDF with 60 ready to print pages
Resource Tags
sequencing
trumpet
swan
novel study
literature
you may also like...
Check out these other great products