Shiloh - Literature Kit Gr. 5-6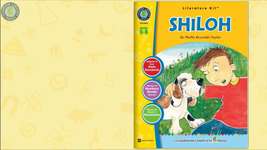 Attributes
Add To Collection
About This Product
Shiloh - Literature Kit Gr. 5-6
Shiloh - Literature Kit Gr. 5-6 is an excellent teaching resource designed to hone students' reasoning and literary skills, crucial tools needed in advancing their comprehension levels, critical thinking capabilities and overall language proficiency. This kit integrates the riveting story of a boy's love for an abused dog into its curriculum, prompting readers to interrogate laws and regulations pertaining to animals.
Marty Preston's Journey:
Built around the captivating novel of Marty Preston's journey with a stray beagle Shiloh, students are transported into Marty's mindset as they unravel his reasons for disliking Judd Travers. The multiple-choice-based component assists in fleshing out each character's feelings, fostering deeper level understanding and empathetic responses from the pupils.
Translation From Fiction to Reality:
The kit goes further than merely following the narrative journey; it asks learners to translate its themes from fiction to reality by considering animal treatment within their community setting. Additionally, this resource enriches vocabulary by matching words used within the novel with their respective definitions.
Instructional Charts:
An intriguing feature incorporated within this kit is an instructional chart that habitually tracks Marty's lies throughout the course of his story—an inventive approach that enhances cognitive reasoning while fostering moral awareness among learners.
Aid for Individual Learners:
Employable as both a whole group study tool or individual learner assignment guide—it aids students at progressing at their own pacing without compromising learning objectives while functioning well as formative assessment materials during small group sessions where student-to-student interaction can be maximized through collaborative efforts towards solutions.
Vocabulary Enhancement Tools:

Included in this product are crosswords and word searches aimed at reinforcing learned vocabulary—tools meant to stimulate minds outside conventional storytelling ways.

Regular Evaluation:

A comprehension quiz accompanied by an answer key is included—these are useful assets towards ensuring effective teaching and learning processes.
Shiloh - Literature Kit Gr 5-6 Overview:
Crowded with 60 printable pages compiled thoughtfully into one PDF file,the Shiloh - Literature Kit Gr. 5-6 paves concrete ways for Grade 5-6 Language Arts (Literature) learners to experience profound learning in a personable, engaging manner. Suitable as a book companion,this resource assures that students delve deeper than just surface level reading,intrinsically unraveling the threads of each character narrative and overarching themes.
What's Included
1 PDF with 60 ready to print pages
Resource Tags
animals book
Shiloh
novel study
reading comprehension
crossword puzzles
you may also like...
Check out these other great products