Special Resources > Life Skills | Early Learning, Preschool, Kindergarten, Grade 1, 2 | Worksheets
Social Skills Mini Stories | Set 1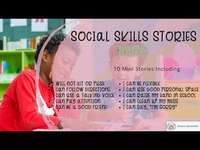 Attributes
Add To Collection
About This Product
Do your little learners need reminders, or even explicit teaching of social skills? Social Skills Stories are a great way to teach students skills that are challenging for them, in a direct, explicit way. These Social Skills Story MINIS are short and sweet and just the right size for little hands.
What's Included
Included Please Find 44 Pages:
> Detailed Instructions
> Story 1: I Will Not Hit Or Push
> Story 2: I Can Follow Directions
> Story 3: I Can Use A Talking Voice
> Story 4: I Can Pay Attention
> Story 5: I Can Be A Good Friend
> Story 6: I Can Be Flexible
> Story 7: I Can Use Good Personal Space
> Story 8: I Can Raise My Hand In School
> Story 9: I Can Clean Up My Mess
> Story 10: I Can Say, "I'm Sorry"
> All Stories Come in Color and In Black and White
Resource Tags
Social Story
Social Skills
Behavior
Special Education
you may also like...
Check out these other great products