Special Resources > Life Skills | Grade 2, 3, 4, 5 | Activities
Voice Volume and Tone of Voice | Social Skills Activities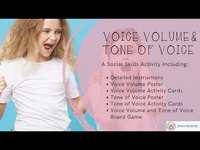 Attributes
Add To Collection
About This Product
Do your students need help understanding the appropriate Voice Volume to use? Do they talk to loud? Too quietly? Do they not understand what affect this has on others? Perhaps they struggle to use appropriate Tone of Voice for the situation? Do they misunderstand others Tone of Voice? These activities will help you teach and support your students to learn these important skills in a fun and engaging way.
What's Included
Included Please Find 25 Pages:
> Detailed Instructions
> Voice Volume Poster
> Voice Volume Activity Cards
> Tone of Voice Poster
> Tone of Voice Activity Cards
> Voice Volume and Tone of Voice Board Game
Resource Tags
Voice Volume
Tone of Voice
Social Skills
Social Pragmatics
Perspective Taking
you may also like...
Check out these other great products