Special Resources > Life Skills | Grade 2, 3, 4, 5, 6 | Activities
Listening To Others | Animated PowerPoint Social Skills Activity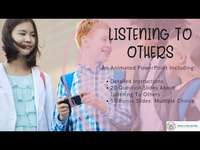 Attributes
Add To Collection
About This Product
Do you have students who have a lot to say but really struggle when it comes to Listening To Others? Listening to others speak to you is a very important social skill that requires perspective-taking, flexible thinking, empathy, patience, turn-taking, and more! This fun animated PowerPoint presentation will help you to teach and support your students to improve their communication skills when engaging in conversations with others.
Students love clicking to reveal the answers on each slide!
What's Included
Included Please Find a 35 Slide Animated/Interactive PowerPoint:
> Detailed Instructions
> 20 Question and Answer Slides About Listening To Others
> 10 Bonus Slides: Multiple Choice Style
Resource Tags
Conversation Skills
Listening To Others
Social Skills
Social Pragmatics
Perspective Taking
you may also like...
Check out these other great products