Data Analysis & Probability: Circle Graphs - Learn the Skill - PC Software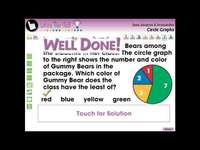 Attributes
Add To Collection
About This Product
Data Analysis & Probability: Circle Graphs - Learn the Skill - PC Software
This educational resource is designed to reinforce understanding of Circle Graphs in Data Analysis and Probability for learners, from Pre-K up to Grade Two. The learning material targets real-world word problems via the 'learn the skill' feature.
Mini-Chapter Format
The software is structured in a mini-chapter format, providing flexibility for educators from various teaching settings, including public schools and homeschooling scenarios.
Whole-group lessons
Small-group activities
Individualized homework assignments/li><

Inclusive Learning Tools and Language Options

A core feature of this software includes math tools intended to enhance interactive learning. Additionally, it offers navigation text in Spanish alongside English; making it more approachable for bilingual students or Spanish language learners.

Educational Standards Alignment

This tool emphasizes compliance with crucial educational standards:

The Common Core State Standards
National Council of Teachers of Mathematics Guidelines (NCTM)

Such compliance ensures that lesson plans created using this tool meet current standards while optimally addressing student needs at their grade levels.. Note: The content comes as a zip file which can be conveniently downloaded onto any computer system.

The Final Outcome: Enhanced Lesson Plans Combined with Modern Technology-based Teaching Strategies!

; Endowed with rich Maths content (e.g., graphing sub-subjects) amalgamated with unique features such as built-in maths tools; this software turns traditional lesson plans into enriched tech-driven instructional strategies. In essence, "Data Analysis & Probability: Circle Graphs- Learn The Skill" merges simplicity with depth, stimulating intellectual curiosity among young learners and aiding in-depth comprehension of the subject matter. A valuable addition for any modern teacher!
What's Included
1 zip file with PC software
Resource Tags
digital math
circle graphs
graphing practice
probability
math
you may also like...
Check out these other great products