Data Analysis & Probability: Circle Graphs - PC Software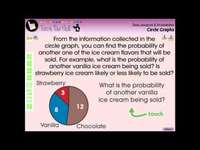 Attributes
Add To Collection
About This Product
Data Analysis & Probability: Circle Graphs is a comprehensive teaching tool designed with attention to detail. This resource ensures thorough comprehension of circle graphs for students from preschool age to the second grade.
Structure and Assessment Tools
Features pre-assessment materials for understanding student's prior knowledge.
A structured lesson plan that imparts the concept in an easy-to-follow manner.
Incorporates real-life application word problems.
Includes timely drill activities for active learning engagement.
The inclusion of SMART Response technology allows objective monitoring and seamless adjustment of lesson plans based on learning outcomes.
Interactive Learning Tools and Games
Presents interactive elements such as math tools for comfortable problem solving.
An accompanying teacher guide assists educators in conducting effective lessons.
In-built games like memory match, board games, spinner games to make learning fun!
The software comes packed together neatly within one zip file compatible with PC software systems. It is applicable across different teaching scenarios - whole class instruction, small group lessons or homework assignments adding what we believe is much-needed versatility in today's digital-first education model.
This resource even includes Spanish voice-over alongside English language content ensuring accessibility stays a top priority!
Educate innovatively with Data Analysis & Probability: Circle Graphs - PC Software!
What's Included
1 zip file with PC software
Resource Tags
data
probability
circle graphs
math practice
digital math
you may also like...
Check out these other great products