Data Analysis & Probability: Circle Graphs - Practice the Skill 3 - PC Software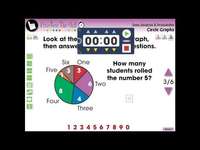 Attributes
Add To Collection
About This Product
Data Analysis & Probability: Circle Graphs - Practice the Skill 3 - PC Software
Offering a focused approach to mastering circle graphs, this software is specifically designed to cater to the needs of early learners. Aligned with Common Core State standards, it delivers a compelling yet straightforward presentation of basic math concepts.
Interactive Learning Activities:
Timed drill activities aimed at interpreting circle graphs.
Targeted questions based on provided visuals.
Challenges that stimulate problem-solving abilities and consolidate understanding of statistical data from graphical presentations.
In addition to English voice over and text instructions, an added feature is the presence of Spanish voice overs, accompanied by respective textual alternatives. This broadens accessibility for diverse classrooms or homeschool settings.
Bonus Math Tools:
A range of math tools that provide a hands-on approach towards enhancing analytic skills.
The application encourages children not only to gain mathematical principles but also develop visual literacy in interpreting information through aids such as circle graphs.
The resource is delivered as one zip file, ready for quick download onto your PC system and provides ease-of-use in traditional classrooms or home-based learning setups.
Note:
The package allows you options like facilitating group discussions using projected visuals on screens or doling out individual homework assignments, thereby reinforcing learned concepts through practice drills.
The software doesn't just make complex concepts seem simple and fun, but also builds confidence among young learners, which has its unique fulfillment when we see children navigating these otherwise intricate concepts effortlessly.
What's Included
1 zip file with PC software
Resource Tags
digital math
data
analysis
circle graphs
math skills
you may also like...
Check out these other great products