Data Analysis & Probability: Pictographs - Practice the Skill 1 - MAC Software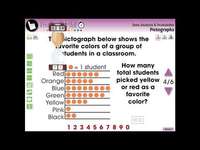 Attributes
Add To Collection
About This Product
Data Analysis & Probability: Pictographs - Practice the Skill 1
The ultimate teaching tool for introducing young students to data analysis and probability is finally here. Entitled "Data Analysis & Probability: Pictographs - Practice the Skill 1", this educational resource is perfect for preschool through grade two students. This isn't just about teaching – it's about engaging, interacting, and ultimately, learning in a valuable way.
At its heart, this versatile tool features timed drill activities that boost understanding of pictographs crucial to data analysis and probability. Interactive elements invite the children to answer questions derived from the given pictograph. Also included are key math tools to enhance their exploration as they wade through these fascinating concepts.
An important feature of this resource is its dual language feature; accompanied by easy-to-understand English voice overs and text as well as Spanish options. This accommodates an increasingly diverse collection of student bodies, making learning inclusive for all.
Aligned with Common Core State Standards
Fulfills STEM initiatives
In compliance with NCTM guidelines

This ensures that your students are being taught within recognized standards. Teachers can leverage this tool in numerous ways including whole group instruction or smaller study groups for differentiated learning experiences; even as additional homework assignment supplementing classroom lessons.

Note that although 'Data Analysis & Probability: Pictographs - Practice the Skill 1' comes optimised for Mac systems via a single zip file download, providing quick installation into your digital lesson plan suite.

In Conclusion...

"Data Analysis & Probability: Pictographs - Practice the Skill 1" simplifies complex mathematical subjects like Graphing making them less daunting for students. Teachers find it flexible enough to cater to any type of instructional requirement in multilingual classrooms. Truly, this interactive and comprehensive software empowers every maths class!
What's Included
1 zip file with MAC software
Resource Tags
digital math
digital graphs
pictographs
math skills
data
you may also like...
Check out these other great products