Data Analysis & Probability: Pictographs - Practice the Skill 3 - PC Software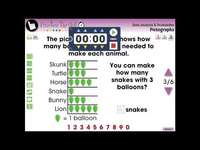 Attributes
Add To Collection
About This Product
Data Analysis & Probability: Pictographs Practice the Skill 3 - PC Software
The Data Analysis & Probability: Pictographs Practice the Skill 3 PC Software is a dedicated resource for educators. It offers an interactive platform to help students understand Pictographs under the scope of Data Analysis and Probability skills.
Features:
Practice Drills: The software comes with timed practice activities which not only enhance understanding of pictographs but also encourage time management abilities in students.
Bilingual Support: Facilitating inclusivity, the tool offers both English and Spanish voice-over options and text. This makes it an ideal learning resource for multilingual or ESL students.
In line with academic standards: The content aligns with STEM initiatives and Common Core State Standards, incorporating NCTM guidelines in its crafting process.
The Tool is versatile enough to be effective in various settings like public schools for whole group instructions or for small study groups as well as independent homework assignments.
Tech Compatibility:
The software package comes nested inside a downloadable zip file specifically optimized for ease of integration on PC platforms.
Aimed at aiding young learners across Preschool to Grade 2 classrooms, this software simplifies complex graphing subtopics within Maths subjects through engagingly interactive drills thus fostering concept retention efficiently amongst them.

An invaluable addition to your educational toolkit; guiding young minds towards clarity of complex mathematical concepts while nurturing proficiency in their skills effectively through digital innovation merged seamlessly with tailored instructional content.

What's Included
1 zip file with PC software
Resource Tags
digital math
digital graphs
pictographs
math skills
data
you may also like...
Check out these other great products