Data Analysis & Probability: Tally Charts - Practice the Skill 1 - MAC Software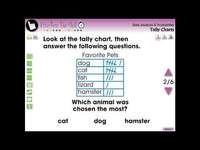 Attributes
Add To Collection
About This Product
Data Analysis & Probability: Tally Charts - Practice the Skill 1 - MAC Software
Navigating the area of Data Analysis and Probability can be a daunting task for young learners, but this teaching resource simplifies the process. Built with curriculum-centric content, it offers an engaging way for students in Preschool to Grade 2 to master tally chart concepts.
User-friendly Tool that Enhances Learning Experience
This exceptional tool effectively breaks down the task into easy-to-handle mini chapters that deal with different aspects of Data Analysis and Probability. Each chapter includes timed drill activities where students are asked questions based on a provided tally chart. Timed practice provides an added challenge and helps maintain student engagement while promoting quick thinking skills.
The software is more than just drills or exercises—it's also equipped with interactive math tools designed to further enrich the overall learning experience. These tools allow children to manipulate data directly, keeping their minds active while reinforcing understanding.
Supports Multilingual Education
In addition, this software caters for English- and Spanish-speaking learners alike as it comes complete with both English and Spanish voiceovers plus text options—an efficient way to support multilingual education in this increasingly diverse world.
A Robust Educational Resource Tailored To National Standards And Initiatives
Common Core State Standards Conformance: Our product aligns seamlessly with allocated standards, offering comprehensive educational resources that contribute meaningfully towards learning outcomes.
NCTM Principles Compliance: It duly references National Council of Teachers of Mathematics (NCTM) principles thereby supporting modern mathematics instruction protocols
Digital Nature For Versatile Usage:The digital nature of the MAC software delivered in a zip file format offers great versatility—it can be applied during whole class instruction via projectors / interactive whiteboards, used in small group workstations or even assigned as homework made possible by remote access technologies such as virtual desktops. This provides extensive utility whether you're engaged in classroom teaching or homeschooling environments.
Description Closeout
Are you ready to take your math instructions beyond textbooks? Equip your educational artillery today with our comprehensive resource that teaches IT-enabled modern mathematics around tally charts—a priceless asset for educators and learners.
What's Included
1 zip file with MAC software
Resource Tags
tally charts
data
digital math
probability
math skills
you may also like...
Check out these other great products