Language Arts > Writing | Grade 2, 3, 4, 5, 6, 7, 8 | Activities
Graphic Novel Templates | Writing and Perspective Taking Support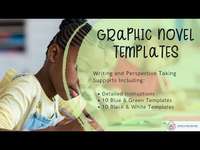 About This Product
Many children love graphic novels. They are fun and easier to read with more pictures and less text. These graphic novel templates can be used to get your students to engage in an activity, writing more, or work on perspective-taking between characters.
Material Prep: To use these as hard copies, print on cardstock quality paper, and laminate. You can use these again and again. You can also print them on regular paper and write on them for one-time use. These templates also work well for online work. Simply open the file and use an annotation tool like Kami to add text.
To Use: Use these templates to complete graphic novel assignments or to encourage a student to write a story or even to draw out a social scenario that they are having a challenge with.
For black and white copies, simply print and go!
What's Included
> Detailed Instructions
> 10 Graphic Novel Templates in Blue and Green
> 10 Graphic Novel Templates in Black and White
Resource Tags
Graphic Novel Templates
Writing Support
Special Education
Social Skills
Perspective Taking
you may also like...
Check out these other great products