Number & Operations: Decimals - Addition & Subtraction - PC Software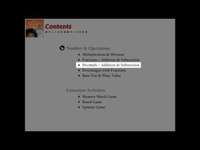 Attributes
Add To Collection
About This Product
Introducing Number & Operations: Decimals - Addition & Subtraction - PC Software
This product is an ideal resource for educators striving to improve their students' understanding of decimals, applicable in both public schools and homeschool settings.
Aimed at Grades 3, 4, and 5, this package focuses on the crucial math subject of decimals.
Pre-assessment activity: Provides an overview of student's current understanding.
In-depth lesson plan: Comprehensive teaching meeting curriculum standards.
Real-world word problems: Showcases practical applications of decimals in daily scenarios leading to improved appreciation.
Timed drill activities:
To consolidate learning and accelerate mastery timed drill activities are included. These can be formatted as whole group activities or smaller more focused groups based on performance levels. They can also be provided as homework assignments enhancing home-based learning experiences.
Bonus features include:
Math tools and printables for effective instruction delivery.

Innovative games designed for fun practicing decimal addition and subtraction:

The Board Game
The Memory Match Game
The Spinner Game


An all-encompassing Teacher guide
:
This guide ensures smooth sailing through each component while making sure desired outcomes are achieved.
Bilingual Support:
In order to cater diverse educational needs and promote integrated education this software provides voice over text feature in both English language as well standard Spanish.
System Compatibility:
Delivered as a zip file, the software is compatible with PC systems allowing for easy accessibility.
Invest in Number & Operations: Decimals - Addition & Subtraction - PC Software today and take steps towards making decimal number operations more comprehensible for your learners.
What's Included
1 zip file with PC software
Resource Tags
adding decimals
subtracting decimals
operations
digital math
decimals
you may also like...
Check out these other great products