Number & Operations: Decimals - Addition & Subtraction - Practice the Skill 1 - MAC Software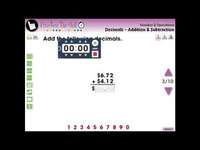 Attributes
Add To Collection
About This Product
Number & Operations: Decimals - Addition & Subtraction - Practice the Skill 1 - MAC Software
This effective teaching resource is a must-have for educators looking to enhance their students' skills in adding and subtracting decimals. Tailored specifically for Grade 3 to Grade 5 students, it is an invaluable tool for both public school teachers and homeschoolers.
Diverse Learning Activities
This chapter mini incorporates curriculum-based content with timed drill activities at its core. Students are presented with various problems, pushing them to correctly add the provided decimals. The product also includes essential mathematical tools.
Bilingual Feature
The software operates primarily in English via voice over and text but also offers an alternative Spanish option. This enables Spanish speakers or those learning Spanish effortlessly to navigate through this educational software.
Standard Compliant Teaching Resource
The content aligns perfectly with Common Core State Standards (CCSS).
Caters adequately towards the requirements of STEM initiatives.
The material adheres efficiently to the guidelines provided by NCTM.
This product grants educators curriculum compatible resources that can be used in various settings like whole group learning sessions, small group discussions or even as individually assigned homework tasks significantly augmenting its utility aspects.
Please note that when you purchase this material you receive a zip file containing MAC compatible software - ensuring easy download and usability on any Mac device you might typically use for your teaching needs.
In conclusion,
this product integrates technology seamlessly into everyday education making complex processes like mastering decimal operations simpler while introducing a fun element!
What's Included
1 zip file with MAC software
Resource Tags
decimals
operations
adding decimals
subtracting decimals
math skills
you may also like...
Check out these other great products