Number & Operations: Decimals - Addition & Subtraction - Practice the Skill 2 - MAC Software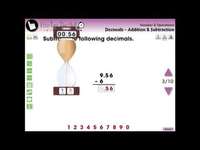 Attributes
Add To Collection
About This Product
Sure, here is the formatted text:
Number & Operations: Decimals - Addition & Subtraction - Practice the Skill 2 - MAC Software
This software ensures comprehensive coverage of key mathematical concepts dealing with decimals. Designed for students in grades 3-5, it aids mastering addition and subtraction of decimals.
Software Features
The zip file contains contents compatible with MAC.
'Practice the skill' timed drill activities are integrated to enhance speedy computation skills.
Addition and subtraction problems emphasis mastery of decimal operations.
Math tools provided facilitate visualization and application of abstract numerical problems
.
Tech Integration & Inclusion
This resource caters to a diverse learning community as it includes both English and Spanish voice overs as well as text options , stirring an inclusive learning environment enabling linguistic inclusion.
Educational Standards Compliant
The software is in accordance with recognized national curriculum standards such as:
National Council of Teachers Mathematics (NCTM) guidelines,
Common Core State Standards (CCSS), and
STEM initiatives.

Versatility in Usage

From group lessons, small breakout sessions to individual homework assignments—This software can be utilized across various educational settings promoting interaction, peer skill transfer and independent thought exploration. m

---

In conclusion: 

The Number & Operations: Decimals - Addition & Subtraction- Practice the Skill 2 - MAC Software

is a substantive blend between concept acquisition and digital engagement. It stands as a modern and effective resource to learn decimals operations.
What's Included
1 zip file with MAC software
Resource Tags
math lesson plan
decimals lesson plan
operations
digital math
decimals printable
you may also like...
Check out these other great products