Data Analysis & Probability: Pictographs - Learn the Skill - MAC Software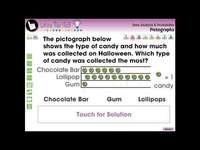 Attributes
Add To Collection
About This Product
Introduction
Data Analysis & Probability: Pictographs - Learn the Skill - MAC Software is a curriculum-based tool designed to improve students' understanding of data analysis and probability using pictographs. This interactive resource enables learners to tackle engaging real-world word problems.
Educational Standards Compliance
This educational tool aligns with Common Core State Standards, fitting effortlessly into STEM initiatives. Developed according to the guidelines set by the National Council of Teachers of Mathematics (NCTM), it offers assured validity and relevance in enhancing children's data representation skills.
Aimed Audience and Features
The software caters perfectly to children transitioning from preschool up through grade 2, focusing mainly on math, particularly graphing concepts.
MAC software comes as a zip file making digital access easy for educators across different educational settings, including group work sessions or individual tasks for independent learning.
Inclusion of math tools within the software aids teachers illustrate abstract concepts visually thus enabling comprehensive understanding surrounding these mathematical domains for students.
Bilingual Support
The resource looks forward toward promoting bilingual education trends by presenting options in both English and Spanish languages–resultantly broadening accessibility across varied linguistic backgrounds.
In Summary
Data Analysis & Probability: Pictographs - Learn The Skill - MAC Software unfolds as an effective platform towards sharpening young minds' problem-solving skills. It raises their confidence in data analyses–a skill pertinent in classroom learning as well as larger life scenarios.
What's Included
1 zip file with MAC software
Resource Tags
math lesson
digital lesson
digital math
pictographs
graph skills
you may also like...
Check out these other great products